The Irving Quilt Guild has proudly joined quilters across the Nation creating quality quilts to honor and comfort our physically and mentally wounded Service Men and Women, in all branches of the Military, both active duty and retired. If you wish to pay tribute to all military men and women who have served our country, please thoroughly read all the requirements for making a wonderful gift that will make both the Irving Quilt Guild and the Quilt Recipient proud.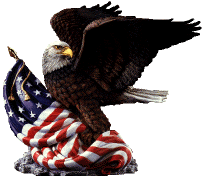 Volunteer Points for a finished Valor Quilt.
Requirements for making a Quilt of Valor
Quilt store quality 100% cotton fabric. (Do not use sheets, thin, stiff or scratchy fabric.)
Wash your fabric before making your quilt. Use a Color Catcher in washing machine. (Do not use scented laundry products.)

Make a coordinating pillowcase, use a zippered bag or matching pillowcase in which to place your Quilt of Valor. (Do not send your quilt without a presentation case.)

A Label must be included and must include the following: Quilt of Valor; Blank ofr name of recipient; Name of piecer; Name of quilter; Irving Quilt Guild. (Do not add political or religious messages.)

Size for TOP: Width 55" to 72" by Length 65" to 90".Size for Backing: 3 to 4 inches larger on all four sides. (Do not make quilt top less than minimum or maximum.)

Use straight cut or bias double fold for binding. (Do not fold over backing and use as binding.)

Machine or hand quilting in an appropriate design only. Free hand, pantograph, or computer guided patriotic or generic designs. Balanced stitches of uniform size, 8-12 stitches per inch. (Do not quilt as you go, stich in the ditch, tie, or do giant meandering.)

Use only Low-Loft quality batting. (Cotton 80/20, or poly from Pellon, Warm Company; Quilter's Dream; Hobbs)
Note: Many free patterns are available on the www.qovf.org website and on the web by searching for Quilts of Valor patterns. Also, it would be nice if you write a note to the recipient. Last – Please do not include advertising, political or religious messages.